Sylvia
July 29, 2008
I see you writing there, in my head,
Your hands burning with emotion that no one else would understand.
Never like you do.
Crossing out this and that,
"Not good enough," mumbling to yourself.

I see what you see.
Only much, much more
Than anyone else should ever know, for

I am the witch you felt the fire for,

I am the insomniac, the scared, sad boy in a lidless chamber.

I am the vertical wishing to lie amongst the poppies.

And I see the yew tree, and the moon.

And I know about the cold, dead

Saints that float but never live.

I see what you see.
My eyes are of the light
Silver-blue in their color,
Wide-open always,
All-seeing.

Sensitive to the sun,
Glowing with their own
Internal light,
They need not the shining sun that
Dark eyes cannot live without.

So never does my night
Shine with leather darkness,
And never is my black truly black,
But hinted with grey, over-washed.

All because of my cursed bright eyes
That see more light than there is,
The source of my unreal optimism.
That see everything, and know more than what is safe to know.

The source of my wisdom beyond my age.

That provide the sight to see as you did,
In black and white photographs,
Smiling beautifully, peacefully,
Lingering in your depression,
Not knowing your future end.

I see the beautiful love in your eyes,
Letting in too much light,
All-seeing, open wide,
And I can only wonder,

Will yours, be my demise?

A death of my own hand?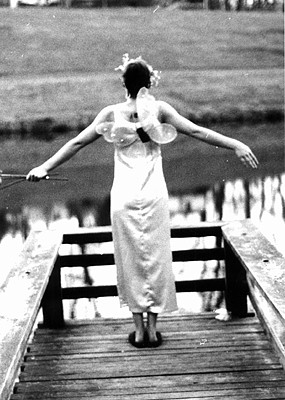 © Jessica T., Cincinatti, OH