The Last Freedom
June 8, 2012
I know as long as you stay warm,
We will ride out this wretched storm.
The subtle rise and fall,
Only death does it stall.
The blacks of your eyes
Were never a disguise.
Not once was i hurt by you,
But now hurt is all you can do.
I want the pain to end,
Say goodbye my dear friend.
I pull you close against my skin.
I feel the cage your heart is in.
A faint breath holds all my hope,
Your health sliding in a downward slope.
I kiss the tops of your head,
Bidding you please go to bed.
Your presence wraps me into dreams,
One where life is what it seems.
My heart is eased for a while.
In my dreams i can now smile.
The weight is lifted,
Once more life is gifted.
Such a selfish treat
To have a sense of sweet
While you rot away in my arms.
Guilt tears at the cause of all your harm.
Weight crashes down once more,
You're asleep on the floor.
The sleep is peaceful, and forever strong.
I have to get up, I have to be strong.
I reach out to you, knowing already
The still in your heart too long has been steady.
The cold stealing you away,
Your body stuck in the way
You left it when you left here.
I only wonder if you are near.
Holding you in my arms for the last time,
I realize you are no longer mine.
Now you belong to the unknown.
To Heaven you could have flown,
But there is no way of truly knowing
Where your soul will end up going.
I lay you down in your own bed,
Wipe the tears and smile instead.
No more will you feel any pain,
One pure soul Death will now gain.
Life is hard, now you may rest.
In deep sleep, Death is the best.
Freedom has been the ultimate goodbye
That we are all given when we die.
I look at your body, but you aren't there.
You're in a place without a worldly care.
I don't know what that looks like or where it is,
I just hope you can not feel pain like this.
I can't look anymore, so I turn away.
Maybe I will see you again someday.
But for right now it is goodbye.
I love you, that was never a lie.
I might hate life without you,
But at least I have a life to do that to.
May Death treat you well,
For this is Forever Farewell.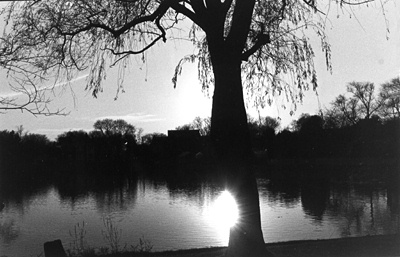 © Chuck K., Marblehead, MA