His Grace
June 18, 2012
Drifting in a boat through the mighty Everglades,
I took in all the great marsh and beauty that never fades.
A place serene and calm as can be
Where creatures of all kinds slither and swim about, quiet and free.

All of a sudden there was a huge splash
And away swam and flew every little fish and bird.
For long minutes it seemed to be,
That every animal in the swamp was trying to flee.

Then all was quiet once more.
Despite the rustling caused by the retreating of a boar.
Silence filled the air.
And that's when I saw him swimming without a care.

He at first seemed to be a large brown log,
But as he came closer, through the dense fog,
An armoured head appeared right in front of my boat,
With sharp teeth gleaming as if he was trying to gloat.

He was majestic, about ten feet from head to tail,
Every inch of him covered with many a scale.
And as he glanced towards me I found myself shake
The glowing eyes and fierce expression made me feel as if I were drowning in a lake.


After what seemed like eternity,
The crocodile finally did take his eyes off me
Deciding that he would find better prey.
Saving me for another day.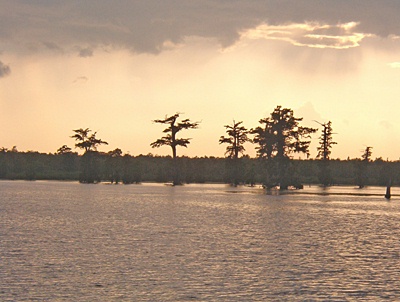 © Katy A., Gonzales, LA