Black Heart
June 29, 2012
Hypocrite!
You talk of good things,
convincing all people of your genuity, even yourself.
You walk according to the Way,
but inside, you laugh at yourself,
astonished at your timidity to
break away from the expectations
to follow the laws of old.
Doubt and regret have crept, unnoticed,
into your black heart,
waiting to pull your mind away
at the perfect moment.
You will be lost.
So, are you not already lost?

I gaze at my reflection,
willing a response from the depths
of my soul.

Deceiver!
Though you speak truth,
you have twisted the words
into the very thoughts tjay
probe this black heart.
Yes! I doubt. I regret.
But I also hope.
I believe.
My mouth, my feet,
they are right in what they do.
Trained as a horse, they do as I please.
Admitted, my motivation becomes self-centered,
my thoughts turn to selfish gain,
a gleam invades my eye.
But I am not lost.
You, yourself, have said,
I walk according to the Way.
I am shown the Way back.
I return.
I am never lost.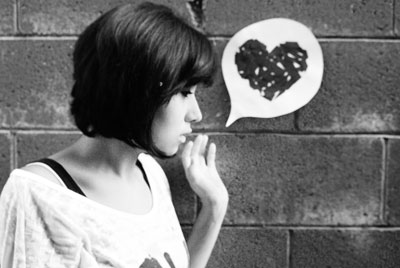 © Michelle B., West Covina, CA