The Noah Poem
May 27, 2012
When I saw you at Target, we made eye contact, but kept walking
because I know who you are, but I'm not sure you remember me
Do you remember when our kindergarten teacher taught us to knit and you wrapped the string
round and round and round and round and... your scarf was about an inch long when you ran out of yarn
Do you remember the first time I went to your house and you scared me with the rubber snake hidden in the shrubs?
we sat in your station wagon, facing backwards, and we killed all the aliens that came our way,
and when they were all gone,
we picked fresh banana peppers from your mothers garden and we relished in the sweet juice dripping down our chins.
I remember a boy who hid under the slide, and actually ate his mud pies
and... I wonder what you do now, because the only thing I can SEE is your bright red jersey from the HFC, but do you remember our old games?
Of hopscotch and jump rope and our own game called Crockagator where we jumped on the monkeybars and sang of our triumphs.
And do you remember when our fingers were intertwined and you... were my first love, because when you're six every boy you meet is your future husband
because I remember when I could see your legs and count the cuts and tell you
THIS is where we climbed the tree and
THIS is where I threw the stone and
THIS is where my dog got too excited,
because your lips were meant to whisper in my ears and my puppy dog eyes were meant to keep us out of trouble and our names were meant to be said in a row...
I remember, you found a heart shaped rock and you gave it to me and I loved it but I lost it
and now I can't remember where we were or even how old we are but
I remember that cool stone sitting in the palm of my hand and THAT was how it was meant to be
but my legs are much longer now and our hands have both grown and they don't fit together very well anymore because
you've got your friends and I've got mine but
I saw Kenzie and Emma the other day, and I thought of the times when we tried to swing on the vines at their house, but they broke, so instead we weaved a net to hold our memories in, but now all the knitting needle holes we left are letting them drain away
and the scarf you made surely isn't keeping us warm
So...I keep walking
but I can't help wondering where the time in the bushes went, with the teachers yelling our names and I miss my friends from back then, where you belong, with your puffed up hair and memories of cardboard movie theatres and I bet you would think it was funny if you knew, I draw anime now, and I wrote a poem about you, but I've only got 3 minutes so I guess...
this is my hello, goodbye, and how do you do.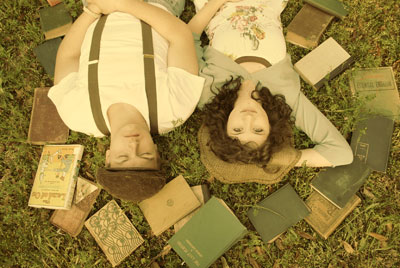 © Gabrielle A., Pensacola, FL