With Yet Without the Touch of Man
June 15, 2012
As the sun reaches out to touch the sky
And the first birds begin their ascent and fly
The farmer reaches towards his plough and starts
His daily work and his helpers move their carts
Towards the fields of wheat, carrots and peas,
Accompanied by the gentle humming of bees.

The rumble of tractors joins the din
And truckloads of manure begin to drop in.
The fresh compost being prepared near the side of the barn,
Is smelled by the farmer's wife as she makes rolls of yarn.
And back in the fields the birds begin to sing
Urging the crops to shoot up and keep growing.

The peas with their delicate tendrils twine
Around posts kept to support their delicate vines.
They are plump and strong shelled
And after the rains greatly swelled,
As the plants themselves are full of pride,
Untouched by any chemical fertiliser or pesticide.

And the soil with grains so fine
Rich, fertile, drawing a great line,
On the quality available for miles around.
Layered carefully, like a stack of files
The natural wealth of the soil,
Had because of organic inputs become something even mankind could not spoil.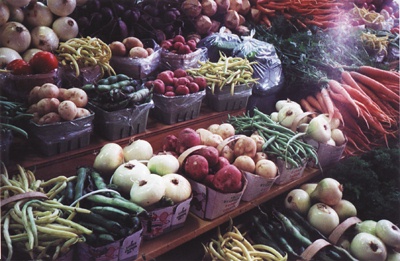 © Amanda F., New City, NY