Sestina Ottobre
May 30, 2012
She sits down in the blue chair
Calmly, gazing through the window
At the sun, able to breathe
The crisp air through the iron lock.
There's a worn patch on her knee
Covering a hole made from cheating God.

She closes her eyes and forgets that God,
Thinking only of her position in that chair,
The padded seat of which meets her knee.
A faded picture on the wall is her new window,
The glass and oak a strangling lock
Refusing to let the portrait breathe.

Before she has a chance to breathe
In, she is introduced to her new God,
Who walks in, turns the lock,
And claims her sapphire chair.
The room now has no window
But for that dusty image past the woman's knee.

Through the patch, the girl's knee
Struggles valiantly to breathe
But there is no large window
There through which help can come from God.
By sitting silently in the watery chair,
On God's powers she had snapped a lock.

The woman's eyes are like an eternal lock
On the girl's soul and she crumbles to a knee
To the side of the hallowed chair.
The woman desperately urges the girl to breathe;
She is the girl's new and only God,
And her only escape is through the window.

The deadly slice of the window
Severs the silent soul from its lock
And hurtles the girl towards God.
The woman rises from her knee,
Allows her eyes to swim and breathe
Tears, and collapses back into the chair.

On the window is the patch from the girl's knee,
No longer a lock through which she cannot breathe.
She is gone, like God from the woman in the chair.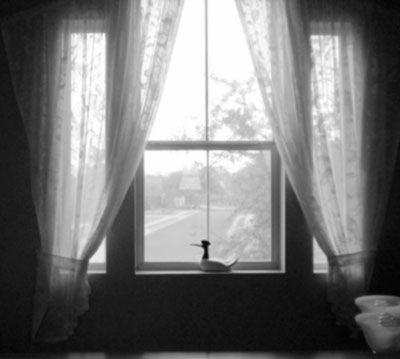 © Kathryn W., Austin, TX