More Than Your Lies
May 7, 2012
So I can admit,
that the day you told me you loved me
you didn't realize it was a lie.
The first time
"i love you"
fell off of your lips
i believed it.
hell, maybe you
believed it too.
but today,
two years and too many days
after the day
you decided to be mine
and i decided to be yours,
i know it's not
true.
too soon
after too many wild nights
and too many tears
you told me
that you loved me
and i
stammered it back
whispered
"i love you too"
those words
became our promise
even though
we never really promised.
we said that
we were forever
and ever.
together,
our hands clasped tight,
we could face anything,
right?
until
we couldn't.
until i got a call
telling me my world had fallen apart.
until
i told you
that i knew
i was different than what you thought.
until you told me
that i shouldn't spend time with her
or go out with him.
when the expectation
became
"you're mine tonight"
instead of
"what do you want to do?"
things changed
once i found
that grief leaves a taste in your mouth
that can't just be
washed away
with tears and mouthwash.
when i found out
that my ribs
were much too weak
to hold up
both me
and you.
when we discovered
that
even though physical scars
fade,
scars are like
icebergs.
the outside
is scary,
but the inside is what
kills.
but i chose you
and you chose me
and john green
says that
that's like a promise.
and my
naive yet cynical
broken self
believed
that maybe
forever could work.
that if i promised
that you'd stay
and my scars
would fade
and life
would become
a little unbroken.
but then
life wrecked through us
like a hurricane
and we wound up
starving and
hopeless
two days of not talking,
a fight that never ends,
maybe a little too
far gone to be fixed.
you wanted
a clean break.
so i packed up
your s***
and tried to go on
with what was left of my life,
trying to fix the broken
mess you'd left behind.
and
i think i have succeeded
but every now and then
you rush through again
leaving my life
a little more
broken.
i can't wait for the day
when i can look
into your eyes
and tell you
"i am not your slave.
i am not your mistake."
i am
more than
your little disaster,
and i
am more than
your lies.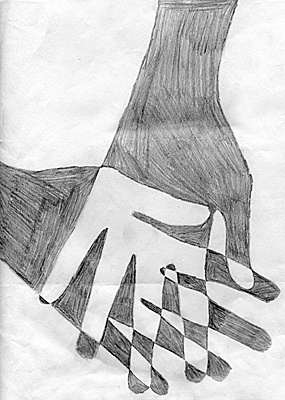 © Warlito B., Tamuning, GU