Light
May 8, 2012
Before I met you I couldn't see.
Darkness and despair surrounded me.

For every step I had to fight
Until you came and showed me the light.

At last I can see.
You've set me free.

You are my way, my light, my love,
My prayer fulfilled from above.

In the darkness I found a light,
I'm glad I saw how it shone in the night.

I found a lamp that burns so bright.
When I have it all is right.

When I'm with you things are clear.
All I need is for you to be near.

I ask one thing if you'd be so kind
Don't ever leave for without you I'm blind.

Never again could I find my way
So stay with me night and day.

I'd stumble and fall
Until death seemed kindest of all.

You've given me light so I can see
How beautiful this world can be.

This new world is amazing, bright, and strange.
There is nothing about it I would change.

Things like these I've never seen.
All of my life where have they been?

They make me want to sing and dance
And believe I can be part of it if I take a chance.

The way you flip your hair
Shows me we could live without a care.

So don't ever let go of my hand.
Just take me away to explore this new land.
There's so much that I've never seen before
And as I see I find there's so much to live for.

Though some may find it strange that this all brings me such great delight
It's because all my life I've been chained down and suddenly I'm taking flight.

My heart is reeling
From such a glorious feeling.

Then you tell me you've always been in darkness too.
I can't help but wonder how this could be true for someone like you.

Till I realize that when we met there was a spark in the dark of the night.
It took us both to create the bonfire that gives off this light.

Although we both had to go through so much strife
It was worth it because now you're in my life.

Let's promise to never again be blind
And that neither will ever leave the other behind.

Our light will live and be carried on
Eternally from the first day it shone.

We have set the beauty free
When if found you and you found me.

We broke free of our bonds
And that began our dawn.

No longer blind; we're free to see
May this forever be our joyous decree.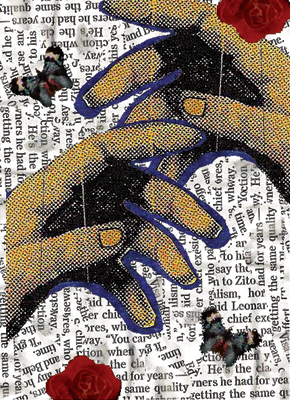 © Christine S., Arlington, VA