At First Glance
July 17, 2008
People are watching,
looking up at the scene.
The girl on the edge of the ledge
she must be insane.
Yet they have no idea.
They do not know the pain she feels.
How it tears her insides apart.
Or the way she is treated.
Beat by her drunk of a dad,
while mom is off getting high.
Yet all they see is the girl on edge of the ledge.
The girl that's insane.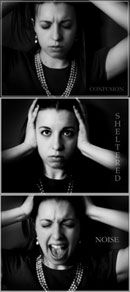 © Michelle B., Blairsville, GA