Country
May 7, 2012
Everyone is smoking. The exception being the two of us, of course, sitting comfortably in the
clouds of temporary relief and salty release. I know that he smokes sometimes. I know this
because I have seen pictures of him, cigarette in hand, eyes happily half-closed. But he is not
smoking now. He has the decency to restrain at this very moment.

He is telling me about his travels through the Midwest, but all I can focus on are the
pupils of his eyes, slightly dilating and shrinking rapidly with every breath his takes. Now he is
talking about all the different places he has lived. I zone back in. "And we just kinda etch-a-
sketched our way around, me and Alex." Alex is his brother. My ribcage contracts with his word
choice, and then I focus on his ears, which are bigger at the bottom and come to a slight
fantastical point at the top. I resist the urge to lean across the table and tug on his left earlobe.

He's working really hard to conceal his slight Southern accent. It's cute.

"We never saw no snow, though," he says, shaking his head in affirmation of this
statement. "Well, we did that one time. But it was snow that you could only wave at before it
disappeared." He makes a gesture to illustrate his point.

I take note of his shoulders. His bones are curved in towards each other, and,
consequently, the rest of him looks like a pudding bowl. Banana pudding, I think, as his clavicles
pop into view.

"At my house, everyone's always dyin' their hair all the time," he says, fingering his
fried blonde locks. Corn husk, I think. The kind of delicious corn you eat on summer afternoons
but not during winter, because it doesn't taste as good then.

His voice is full of wheat germ and bitter coffee, of sweat droplets and recreational drugs,
of tie-dye and lavender. It is cloaked in cigarette smoke and the natural rasp of manhood. His
scruffy, sexy singing voice moves fans to tears, but I see in him something more practical, more
down-to-earth.

I see him dancing in fire, longing for Kentucky, and leaning against fence poles, waiting
for the sun to rise.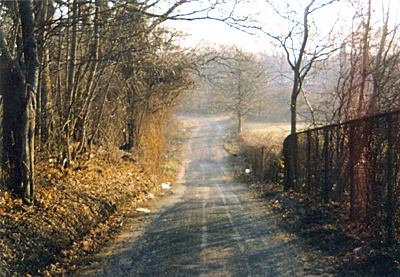 © Cameron C., Milford, CT