He** Is A Place I Call Home
May 3, 2012
I live in a world where destruction and chaos are unavoidable,
Where murder and death is common,
I live in a world so unstable,
That I often end the night with amen.

Close friends and family die each year,
I don't know why, because it's so unfair,
Each time this happens I shed yet another tear,
And end the night with my lord's prayer.

Bad things seem common to good people,
Something I just don't understand,
You could spend all day at a church's steeple,
And wonder, where is this Promised Land?
But my friend, you will get nowhere,
For this world is only full of despair,
And that land does not exist,
Good people have searched long and hard,
But that Promised Land and humankind could never coexist.

When the good people always lose,
And the bad people get away,
When you're faced with two decisions, and you must choose,
What's going to make me choose the good way?
Those bad people who to others hurt and degrade,
And those innocent people who suffer,
Those are the days that I prayed,
And those are the days I wish I was tougher

Someone once asked me if I believe in Heaven,
And my answer was short and sweet,
I think that place so full of heat,
That place commonly referred to as He**,
Is probably the same place we call home,
Just one big fiery pit,
And if there's a He** then there must be a Heaven,
And I'll be the first to admit,
I know there's a He** because I live in it.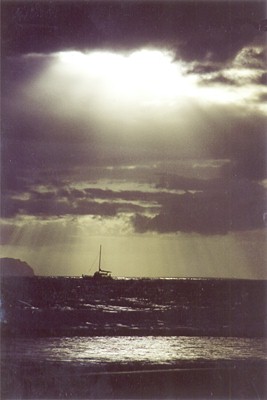 © lily H., Kekaha, HI