Beauty
April 23, 2012
In all of my wishes, hopes, and deepest dreams,
This Wondrous Creature is always I.
Her beauty will last forever, it seems,
Her glory, no one will ever pass by.

Fairer than a completely cloudless sky,
Her blue eyes do shame the sparkling sea.
A tragic beauty if she is to cry,
Her flowing tears like precious diamonds be.

Her lips shame the reddest of all roses,
Her shining hair is luscious, soft and long.
Her fragrance floats into nearby noses,
the soft scent being like the sweetest song.

She is perfectly built, long and slender,
She has a ravishing, welcoming smile.
All things about her are sweet and tender,
To her beauty there can be no denial.

Though precious and holy this girl may seem,
She so often would draw from me a sigh.
So often would she haunt me in my dream,
All of those nights when she caused me to cry.

Many things maybe one day I'll obtain,
But beauty like that will never be one.
Longing thoughts constantly invade my brain,
The mirror's mocking will never be done.

Too ugly, too chubby, too round, too tall,
It's consistently ringing in my ears.
Skin too pale, feet too large and eyes too small,
All my self-doubt, my self-hatred, my fears.

Then one day I see, though almost too late,
That real beauty comes from the inside.
I show the mirror that really I'm great,
And I shatter the glass beast that has lied.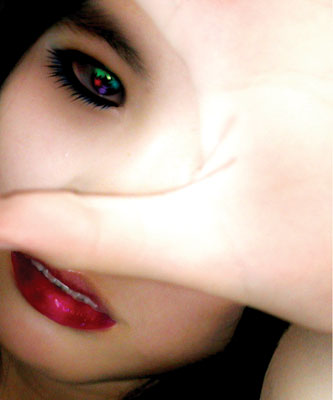 © Victoria W., Arcadia, CA