The River
April 21, 2012
"The river awaits."
the beautiful woman says crossing my confusion.
I stare warily at the river. Wondering.
My tears are falling and she dries them
"Do not be frightened everything will make sense soon."

Something is holding me back.
Something desires my presences.
"I can't. I'm not ready." I spoke.
I ran. I ran as fast as I'm able. I see a clearing.
I see-I see my life. I thought i forgotten but its there in front of me as if it has never left but no longer reachable.

Why can't anyone hear me?
Why can't they see me?
What, do they suddenly hate me?
Pain fills me as my friend cries out calling my name.

"I'm sorry what can I so to help please!!"
At last, a response,"Is that you."
"yes, I'm-I'm fine please don't cry. Ima cross a river."
Wide eyed nodded as I'm thrown back to the river.

I'm filled with sorrow because I feel an ending,
but I have no regrets so I follow the woman from before.
This woman resembles my mother but younger. Happier.
Again, confusion. She turns and speaks," Soon you'll see."
She smiles. A familiar smile. I love it and bask in its warmth.

We reach deeper in the water and yet I see more light.
I'm under and it's-it's brighter than ever.
We swam. Further and further than the last stroke.
I'm across it and I see...wings on the woman's back.

She turns and recognition turns to reality as i realize my mother before me.
An angel with a beautiful halo circling her head. She's beautiful.
Tears form and once again she wipes them clean.
With that smile. That familiar smile that I loved all my life.

A man approaches with welcoming arms.
"Welcome home my dear child. You've crossed." he says.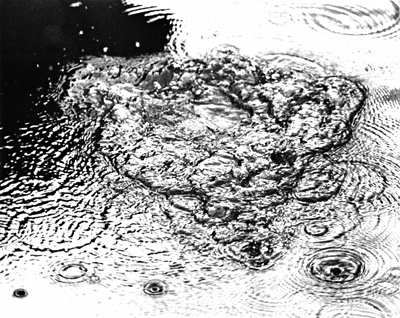 © Christina L., Great Falls, VA