9:40pm-11:30pm 7.26.10
April 1, 2012
Mirror mirror on the wall
Catch me as soon as I fall.
For when I look at you,
I no longer see what's left of me.
You've sat there and stared
For long enough.
You've seen all the changes and all the stuff.
Now I'm lost
And now it's a great big cost
To save me now or whatever I am

I'm blind, for what I see is a blur.
Every time I touch
I can no longer feel of what use to be warm.
When I smell
I don't smell the sweetness in the air,
But the bitterness that I've surrounded myself to dare
The taste of food is stale
For all my happiness is now a tale.
I live in a lie
That's hard to hide.
The sound of the angels crying
Are now the sound of the demons buying.
The soul that use to be pure
But now is not possibly able to cure.
The smile that walks on my face, is now
Just a mask of what stalks in my plate.
The feelings begin to show
When I am all alone.

The tears have dried my eyes,
For now a piece of me dies.
The meaning of love has seem to lost it's touch,
But the meaning of hate has gained its fate.
For when I pray
It's hard to say to my questions are not worthy
To these lips of slay

My heart is boiled and fried
It slowly beats as soon before it dies.
The breath is leaving my lungs
For it has caused me so much pain.
That now runs through my veins.

Living the life of a movie;
It's hard because we play a character we're not.
But if we play too long then we become the character itself
And forget who we were created to be.

It's hard to find something not in your reach,
But easy to find something in your hands.
The demons that prey on the weak
The temptation that leaves a streak
The scars that tell the past
And the stuff we do to make them last.

The addiction to happiness that we can never find,
Unless we are in the arms of the broken mind.
The simplest touch can make you blush.
The simplest thing can make you sing,
To the joyfulness of everything.
The simplest sight can be really a fright,
For what you see is one of a kind.
The simplest taste can make you brace,
The lingering feel of Him surrounding.

The simplest smell can really make you repel.
All the bad things you've done.
To finally open you eyes, is like opening a present on Christmas Day.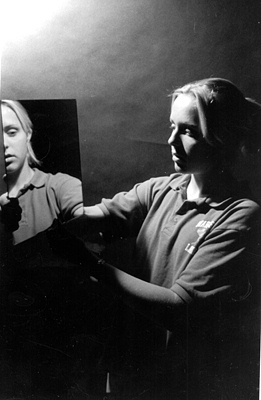 © Hadley B., Marblehead, MA