Corona Del Mar
March 30, 2012
As the sky softly blushes with the first hues of dawn,
We wake up and take our journey
To our secret niche behind the great walls
That were built years before.
We arrive in the lonely, dusty, gray morning,
Where surfers retreat from the water,
Like warriors from a hard fought battle,
Their bodies dripping with the salty blood of their enemy.
We bathe in the scorching white sunlight at noon,
Then cautiously approach the beast.
The monster that lies within is not kind.
It has eaten some and spit them out.
It waves back and forth,
Taunting those who are brave enough,
To brace the cold that pierces the skin like a dagger
And try their luck at conquering the demon again.
We lie on our never-ending meadow of brown
And watch the sky dim the lights in the universe
From yellow
To orange
To red,
Sprinkling its last drops of gold
Onto the majestic silver monuments,
That take constant beatings from
The waves that spray us with the fine mist of the ocean.
Our bodies tingle as the droplets of water
Grace our bodies like a fine mist,
Partly because it cools our singed skin
And partly because we are nervous that
We might never return to our veiled venue
Where the the deep grumble of the monster's belly
Mixes with the sweet laughter of children
And the high pitched cries of gulls
To create a perfect harmony that can only be found here.
We pack up our belongings
As the sun,
The only source of light,
Peeks its head over the horizon,
Just enough so that we can see
In this once again desolate battlefield.
It illuminates the weary orange faces of loved ones as
We make our journey to our homeland
Where the only source of light is artificial.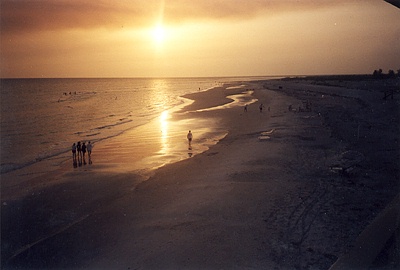 © Sara C., New Port Richey, FL