God Is Kind
February 1, 2012
I love the Lord, don't you?
For he is wonderful, great, and ever so true.
I love the Lord, you know why?
Because he has listened to my every cry.

Praise the Lord he is ever so great!
He will lead you to the Golden Gate.
Put your whole faith in him.
Cause you know he will forgive you for your sins.

He will direct your footsteps
Just follow the Lord's every word.
Every promise he's made he will keep.
Follow our Lord's every decrees.

For he is good to you always.
He will set your heart free.
Look around to see the world he created
Look up to the blue sky.

Know that he is watching over you.
He will not leave you; he is always by your side.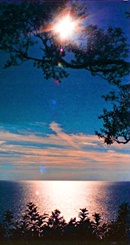 © Crystal B., Gresham, WI