Vampires and Me
January 28, 2012
Biting,
white fangs and jet black.
Following me with piercing red or auburn
Eyes.
I watch them in wonder and
Dismay.
(i wait for an attack but i don't know why for i want to stay me and not change for them)
Give,
They beg me to be subdued into their
Seduction.
I can't and I won't.
For I wish to stay
Free.
Save,
i must leave and flee this place!
I want what I already have and
Nothing
More!
i must find a way to free myself from their Blazing Gaze and Beautiful Words and Voice.
Pulling,
They grab me with their
Promises,
With their
Desires.
Hurt,
They finally try to
Bite.
I run far away!
trying to escape!
trying to become free of their
Grasp!
Good-bye,
i feel the burn and the pierce of the fangs.
One by One they Bite at my neck (only my neck).
it hurts too much for me to bare much longer.
They stop finally!
but it's too late for me.
i have given into their power of
Seduction,
Trickery,
and Fake Ways.
Vampires and Me,
we now live together in a dark, dark
Place.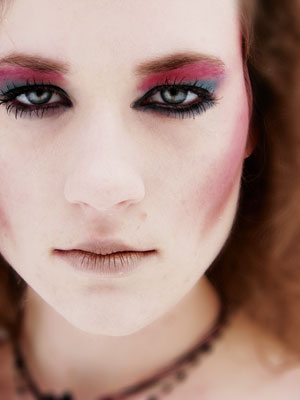 © Elizabeth H., San Bernardino, CA