Monsters
January 19, 2012
Monsters


The night is cold and damp.
My room is so dark,
It's like the moon decided not to shine.

The lamp seems to dim with my sprits.
The room is getting darker,
The rooms closing in,
Suffocating me.

I'm starting to get claustrophobic.
I'm getting pessimistic.

The monsters from under my bed claw at my ankles,
The demons from my closet tear at my neck,

I want to cry,
But my tear ducts,
They won't work.
My chest aches,
There's a lump stuck in my throat,
Choking me.

Take a deep breath,
Stay under the covers,
They come at me anyway.

I try to scream but my throat is too scratchy.
I try to open my eyes,
But I can't seem to look up.
I'm drowning in a sea of blankets,
They can't keep me safe.

Slowly the blankets slip off,
I can see the putrid face of the monster,
Slowly he crawls out from under the bed,
His face oozing with puss,
His teeth sharp and fuzzy,
His rumpled skin and jagged claws wrap around my neck,
Like a vine roping around a pole.

I am as helpless as a bleeding human
Stuck in a cage with a vampire.
Its sharp teeth penetrating my throat,
And stealing my life,
As it slips through my hands,
Like a red ribbon,
Unwillingly dancing in the breeze.

The lamp seems to dim with my sprits.
I know that if I let one tear slip,
I'll be blubbering like a baby,
And the monsters and demons,
They like that sort of thing.

But the images fill my head,
As clear as day.
No one's there too keep me safe,
And no one to tell me,
I'm over reacting.

I'm choking on the lump in my throat,
And my chest aches,
I try to sleep,
But the company in my room,
They won't let me.
Thoughts race through my mind,
With them watching me,
I can't sleep.
They claw at my ankles,
Tear my neck,
Sure I'm a little pessimistic.

But the sun is starting to rise,
And the monsters retreat to their quarters.
And I've made it another night.

I'm a little more optimistic.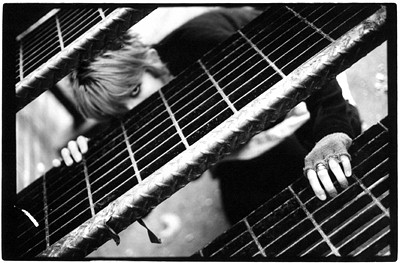 © Patrick B., Stony Brook, NY