The Jumbo Shrimp
January 13, 2012
The other day, while wandering through the luscious callow fields, I came across a JUMBO SHRIMP!
His muscles POPPED out of his flexed arms. ABS! That SHRIMP had ABS!
Then, that shrimp, he gazed at me; at my WIMPY MUSCLES!
He said to me, "Bad luck, huh, my friend." BAD LUCK!
How on earth is that supposed to make sense? Well, you know what?
That JUMBO SHRIMP can take all his BAD LUCK and get out of my field!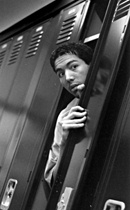 © Paulina A.,Marblehead, MA