The Dirty Green Shovel
January 13, 2012
James grasped a clear glass cup
And slammed it on the dark black granite bar countertop.

The sound of people chattering and electro music filled the air in

The dark room, as green lasers flew across the room in every direction.
James picked up the large clear bottle, that slowly poured out the
Thick radioactive blue liquid that was dumped into the glass cup.

As soon as all the people left the club, James collected all the dirty clear

Cups, and delivered them all to the washer in the dark black back room.
James took off his dirty off set white apron, and placed it in his locker

He then proceeded to walk out of the club


James slammed open the black door, and yawned very loudly at the sight of
The pale yellow rising sun in the fog.

James walked to his glistening red 458 Italia, and proceeded

To unlock the doors, and start up the engines.
He ruffled through the compartments in his beige luxury, finally
Finding his sunglasses, and placing them on his face.

James turned on his radio

Backed out of the parking space

And sped out into the street
His car sped through everyone else's very delicately and swiftly
And maneuvered his way out of every red light.
James then took off his sunglasses

And spotted the big charcoal sign that said "209"

And drove into the driveway, of his large chestnut brown home.



James shut his red door, and popped open the trunk
He placed his belongings in his pocket, and lifted up the large beige bag

He walked up the white marble steps, and whistled a song from the radio

James opened his door, placed the bag on the ground, and fled to the bathroom

To wash his dirty hands.
He proceed to his room where he took his daily pill, and opened a drawer
And placed a gun underneath his socks.

James picked up his green shovel, and dragged the beige bag into

The backyard, where a hand was flung out of the bag

And a trail of blood followed behind James feet.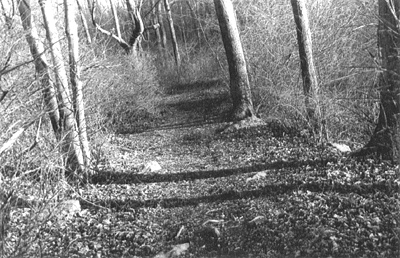 © Nicole N., Wilton, CT