APOLLO, SELENE, AEOLUS
January 9, 2012
All my sunlight spreads upon the sky,
Painting it orange and yellow,
Over all mankind.
Low branches stretching to capture my light-
Light, energy, and happiness-
On the road driving away the ghosts of sadness and pain.


Sleep I bring to the tired soul;
Evening is when my magic starts;
Lonely is my nightly route;
Eclipses are when you miss me;
Night has a thousand eyes and I am the biggest one;
Eager men have traveled miles to behold my face.


A leaf I pluck from its orange brothers;
Eternally I flutter and dance around the world,
Overwhelming nature's harmony, unfamiliar and undetected.
Lightly carrying whispers around the world,
Until I have reached every crack, hole, and fissure,
Screaming, whistling, and howling across the Earth.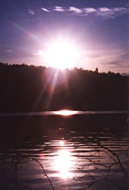 © Laurie T., Hopkinton, MA