Ophelia's Passage
December 22, 2011
She sat inert on the branch
Examining the lily's petals.
It gasped the air and imbibed the water.
The bridge of two worlds watched her in silence.
They looked for reasons to stay
But inside each they found nothing.

The frail lily could offer nothing
Comparable to the supportive branch,
So at a distance she would stay
Until beckoned by the petals
Which obeyed the lily pad in silence.
The pale moonlight gleamed in the water.

That delicate lily in the water
Had so powerful a lure that nothing
Could stop her gaze. Sheer silence
Never spoke so loud; it called her from the branch.
She yearned to answer the dainty petals
But those roots bade her at a distance to stay.

The utterly peaceful lily would stay
Secluded in the ominous water
Until she saw the roots as the petals.
But fate was keeping time. Nothing
Would be done to object the branch
Rupturing in thunderous silence.

There was no thrashing, just pure silence
Once she had resolved to stay.
Her fate had been fixed when the branch
Dropped her into the foreign water.
The roots coiled passively but nothing
Occurred to oppose. The roots were as petals

In her eyes. She gazed at the distant petals
As she drifted into a world of silence.
As far as hesitation, she felt nothing.
The fragile roots whispered their promise to stay
With her on her journey through the water
Away from the earthly, traitorous branch.

There is nothing lost in the passing of fair petals
The girl on the branch complies in silence
To pass and stay in the world of empty water.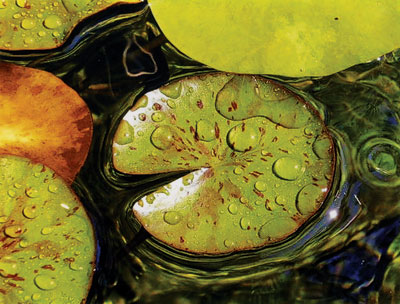 © Kaelee L., Petersburg, MI