Blank Paper
November 23, 2011
I stare at the blank paper before me,
Attempting to decipher what I see.
A pessimist, limitations might find,
But sheer possibilities fill my mind--
For it matches the feeling in my soul.

Should I write something so vividly deep
It inspires me, in the case we do reap
What we sow? Or else, just my simple thoughts
Of life and love (and how much it all costs),
And the way people look, but never see.

Does it matter? For I do not believe
One could know me, but by the way I breathe,
Or the way my eyes look when faced with the dark
Monsters that lurk deep in everyone's heart,
Vanquished only by the light of true smiles.

Perhaps these words I scrawl so carelessly
Were predetermined to fit perfectly
The idea of poems I have come to crave;
But would this scar possibility, or pave
A brighter path to more vivid worlds?

The ink running down, smudging the lines,
Is a world of dreams dancing, apt to define
The thoughts and words I couldn't live without;
The falling leaves, whispers, and masking doubts
Of a world buried in hypocrisy.

I don't believe there is anything more
Beautiful than blank paper, for
The endless possibilities that I see--
They breed creation; anything can be.
But am I talking about the paper--or me?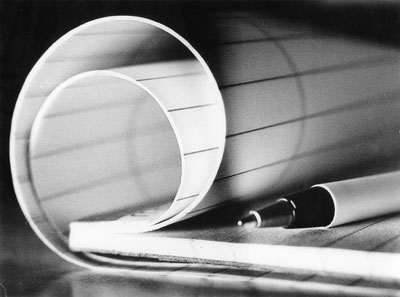 © Samantha M., Bethel, CT