Take That
December 2, 2011
Summer of 1994. We meet. I drooled you smiled. I know you wanted to play. All I wanted to do was eat, sleep, cry, and poop. Sorry.

Fall of 1996. I would wait all day for you to come home to play. I was always Ken. But that's okay because on our Barbie dating show I would never pick your favorite Barbie.

Spring of 1998. I had casts on my feet and could barely walk for months. I was jealous of your walking so I pretended to be married to your big feet. It was an abusive relationship.

Winter of 2000. It was a snow day and your friends wouldn't include me because I was younger. We built a snowman without them…
Ours was better.

Winter of 2002. We move to a new home. Before we move in we bang up the walls and wreck the carpets in mom and dad's room. We played jacks,

Spilled juice, and played dodge ball. I never got the chance to throw the balls at you.

Fall of 2004. Mom yelled at me for eating the rest of the ice cream. I'm grounded for a week. I saw you eat the rocky road and throw it away.

Spring of 2006. Mom and dad are at work and we have nothing to do. We throw down all of the shoes downstairs into the big empty room. We put the shoes in a circle as we make diapers out of sheets. We called this Shoe- Moo.

Summer of 2008. This is our last few days before you leave for college and I start high school. We go swimming and take bike rides everyday.

One time on our bike ride you hit my tire and I fell off into a lake. I know it was on purpose.

Winter of 2010. you come home and tackle me. As you sit on my stomach you begin to tickle me and like my face. I scream for help. I get in trouble For making the dog bark.

Fall of 2012. We are both seniors, except i'm better. This will be when I start to plan to throw jacks at you, lick your face, eat all the ice cream and blame you.

Seriously, dude, take that!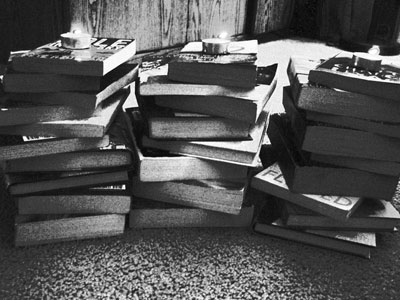 © Alexis R., Clarkdale, AZ