Not Dad, but Daddy
November 22, 2011
Not Dad, but Daddy
I always use to tell my dad that I was going to either marry him, or never move out. I wanted to be with him my whole life. I looked up to him. He inspired me, made me laugh, and I constantly admired him. I still do today, but there have been many times when I wonder why. He's a crazy man who embarrasses me and makes goofy comments. Over time, I have came to realize he's one of the most supportive, caring, and helpful people in the world. There was one specific time in my life where those traits stood out the most.
It all started when I was planning to go to Africa. It was the most exciting event in my life at the time. I had been raising money for months, and the time was almost here to pay for the last bit of the trip. My dad and I walked into the bank just like any other time, and like usual, the ladies behind the desks had smiles on their faces. But this time it had an excitement to it. I knew that I was going to be drawing out the last bit of money for my trip. I was expecting to withdraw about 500 dollars. My dad had been acting very supportive towards me ever since the trip was brought up, but I didn't honestly know how supportive he was actually feeling. As I was about to tell the lady how much money I wanted drawn out, dad decreased the number from $500 to $300. He helped me out by giving me not only the mental support, but also some money. I wanted this trip to be all money I had raised, but I was secretly happy that he helped out.
The trip was inching closer and I was starting to get nervous. Then the day finally came. We were driving off to Washington D.C. to meet up with some people that were also going to the trip. The house where we were staying at was welcoming and cozy, but I didn't get much sleep. I was anxious and had other things on my mind. We woke up early the next morning, ate eggs and toast, and headed off to the airport. I'd been to airports before, but I forgot how crowded they were. Our luggage was checked in and we were about to go through security. The pastor, Luke, who was also going on this trip, brought his daughter, Allana. There were six of us others also; Paul, Wyanne, Travis, Jan, Justine, and myself. I was going with Paul and Wyanne, but seeing Luke and Allana waiting in line together, made me miss my dad more than anything. I started to get scared. I thought to myself, "I already miss my Dad, and I'm about to fly halfway around the world." By then there was so much on my mind, and I was trying hard to hold back the tears. I didn't want to start crying now. Little did I know what was to come during these next couple of weeks.
After a long flight, we finally landed in Kenya. I called my Mom and Dad as soon as I could. The adventures of Africa started right away. We went out to eat, met many people, and saw amazing things. I would ask to borrow the phone to call my Dad to explain what just happened. I was like a little girl who couldn't live without her daddy. I would feel bad if I called him early or too late, but he always stated that he never minded. The first week there was so amazing. I didn't think anything bad would have happened. Dad also noticed that I was bubbly and cheerful when I called him. I always had something positive to say. Then came the time when four of us, Paul, Wyanne, Travis, and I, to relocate somewhere else.
I was so excited to see where we were going to go, and a man named Newton also came with us. I got along with him very well, and soon grew a relationship with Travis too. They were my two, new, big brothers. By the time we got to the new location, Kakamega, I was worn out. Sleeping sounded great to me, but the excitement kept me going. Emotions were starting to run high, though. We were away from the rest of the group, there were complications between us, and I was homesick. Not just a little homesick, but a lot. I was easily stressed out, and cried a lot. Seeing everyone there with someone else, and me not having my dad, was torture. Paul had Wyanne, Travis knew them well, Justine had Jan, and Allana had Luke. I felt so alone. A few times I called dad almost crying. He noticed I wasn't my normal cheerful self, but he was always there for me. I would sit in the hallway on the floor to get always from the others to talk to him. He would listen, tell me to try and look on the positive side, and give me advice. Though he didn't always agree with me, he was still by my side. I love him so much for that. Sometimes I would call even when I had nothing to talk about. Although nothing much was said, I felt better when I got off the phone.
When we got back with the rest of the group, we all sat down to flatten some things out between us. Then things started to get a little better. The trip was coming to an end which made me also emotional. I grew strong relationships with some of the Kenyans. Part of me wanted to go home so bad, but the other part didn't want to leave. I was getting ripped apart. I talked to Dad and he helped me though it, not by giving me advice, but by listening. The day came when we were heading back to the plane. The drive there was seemed bumpier than normal, and stretched out. It felt like just yesterday when we arrived, and then we were gone again. I knew I wouldn't be able to talk to Dad for the whole plane ride, so I made sure I talked to him before we took off. The excitement of coming home and seeing everyone was starting to overwhelm me. I wanted to work on the farm so bad, but part of me still didn't want to go away. I felt as if I had to decide to stay or leave.
By the time we arrived in Washington D.C., all I wanted was to go home. We decided to stay in D.C. for a couple days to site-see, but my only concern was leaving. I wanted to see my friends and family more than anything. Dad told me that the chance to see D.C. in wouldn't come again anytime soon, so I should take advantage of it. Though I knew he was right, I didn't want to believe him. We did make it home though. I called my dad many times when I knew we were getting closer so I could tell him when to leave home to get me. I didn't want to wait for him because he's always late. Surprisingly enough, he was on time. As soon as I saw him, I ran up to him and gave him a bear hug. I missed him so much. I usually don't cling on to my dad too much, but that night I did. On the drive home, there was country music in the background, and me talking my dad's ear off. I had so much to tell him, even though I talked to him every day during the trip. The excitement of being home and seeing my daddy was a remarkable feeling.
Dad has always been the kind of person to be there for me, but on this trip, he went over the limit. He was caring and concerned, but also made me laugh when I felt down. I realized how much I valued him when I always wanted to talk to him and tell him the exciting events that happened throughout the day. My trip to Africa made me truly realize that. Without him, I don't know how I could have made it though. To this day, he still is there for me, and I believe that he always will be. He's more than just my dad, he's my daddy that I can't live without.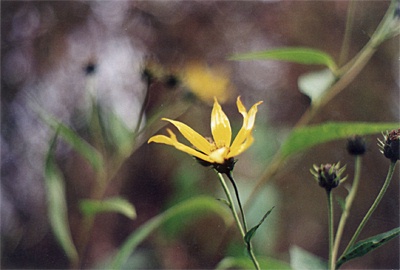 © Scott R., Casco, MI