Dance of the fox
October 7, 2011
I swirl on my toes,
My dress a swirl of pink on black,
Like the sakura caught in a twister,
Slow steps,
Such a lonely dance,
Where has he gone this time?
Off to the lands of war,
Off to the lands of battle.
Shall he come home this time?
Or leave me to dance alone?
Slowly I stop my dancing,
A lonesome sigh escaping from my breast.
My eyes catch the welcomed golden glow of eyes,
My love has returned.
He takes my hand and swirls me,
Lonely. I shall no longer be.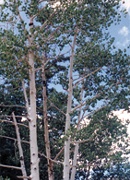 © Bethany D., Philadelphia, PA