Cookie the Gingerbread Man
October 4, 2011
After the chase, Cookie returned to his dwelling,
And what he did see was very repelling.
"Oh no!" he exclaimed. "They ruined my house!"
The people ate everything, even his blouse.
Cookie needed a new home so he marched into town.
He looked for relators all up and down.

As he walked down the street he found one special spot.
"Prudential Real Estate" the sign read, one he never forgot.
A relator helped search, but they had no luck,
Until finally one little idea struck.
"I know," said the relator, out of the blue.
"We can walk around town, Hinsdale will do!"

They looked all around and what did they see?
A beautiful house, but it was not free.
"One million gumdrops," the owner requested.
"Only 900," Cookie then protested.
They both shook their heads, making a deal.
The house was now his, a huge ordeal.

It was a cute little cottage, covered with candy,
And, of course, a gingerbread man thought this was dandy.
He loved his new house even more than the old,
Careful to clean it so it won't grow mold.
He threw a huge party to celebrate his move,
They all ate dinner, and everyone approved.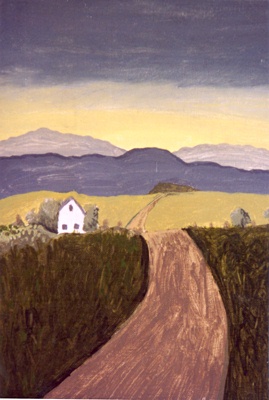 © Alisa L., Tracy, CA