Brass Knuckle Love
August 28, 2011
The one I thought would never hurt me,
Hurt me the most.
You hurt me constantly and didn't even know.
Your arrogant manner, I liked.
But now that it.s directed towards me,
All I can say is SIKE!
I cried myself to sleep last night.
It was the first time but I assume not the last.
Brass Knuckle love.
It.ll put you in a cast.
My heart stitched together by your hand alone.
A weak heart unable to operate on it.s own,
but it didn't need to.
It had yours to rely on.
What am I to do?
I have not a clue.
I want you.
You want me too
but it.s hard when you have no regard for what I have been through in the past.
I.ve been through hell and back,
an undeniable fact.
Dejavu?
I hope not.
When I.m with you,
My heart still stops.
Do you feel the same?
Or in a couple of months will you forget my name?
Love goes two ways.
Can.t be in it alone.
Why is my heart so shatter prone?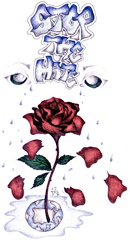 © Diana G.,Phoenix, AZ