Night Whispers
August 25, 2011
Whisper all your secrets.
Whisper them to me.
Trust me with your untold hopes and dreams,
Your past, present, and your wishes for the future.
Secrets weave themselves between us,
As we sit beneath this star filled night.
Have you ever wondered
What it might be like to be a star?
What a star really is?
Would you care to listen to another secret,
Could you?
Sometimes I see myself living on a star.
But it's not what you may think a star to be.
It is more like my own personal world.
No one else can be.
And on my star, everything is what it seems.
There are no secrets on my secret star.
On my star,
I can be a child.
I run around in a white dress that flows around me,
through fields of moon-lit flowers.
Care free,
Peaceful,
Alive.
On my star,
I can live all my wishes and dreams.
I can fly,
On my star.
It's a wonderful place.
Until,
The sun comes up.
When the sun comes up,
on my star.
The little child me.
Dies.
And in her place,
A woman.
And this woman me,
She stands in a white gown,
Smeared with dark red blood.
She shakes,
And screams.
At what's been done.
There lying at her,
Our,
Feet.
Is the child us.
We know she'll back with the night.
But the pain is real.
We feel the shot from our own gun.
She was us.
We are her..
On my star life and death are one and the same.
On my secret star,
That has no secrets.
Whisper to me
As we sit beneath this star filled night.
For when morning comes.
The woman returns to stand against the world and all.
To protect our whispers of the night.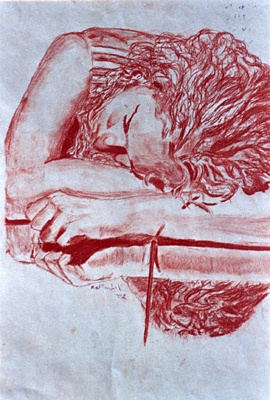 © Mark S., Kannapolis, NC