Her Kingdom
June 10, 2011
The little girl jumped like a cricket.
Small and springy.
"I am the Princess and you are my subjects."
The little girl held her finger to each rock.
"Of course, madam."
She galloped around the large oak and tapped it five times.
"And this," the girl said peeking through the branches
To the sky,
"Is my castle."
"Of course, Princess."
The little girl sad down near her minstrels,
With their crayola eyes
And suave nail polish hair.
She picked up each rock and looked at them hard
As she perched them on a low twig.
"Goodbye my loyal persons."
"No, princess, won't you stay?
We can dance,
and feast,
and play so many games. Please,
Won't you stay?"
The little girl heaved herself up and skipped away.
Her castle sighed and blew,
as the sun closed its eyes.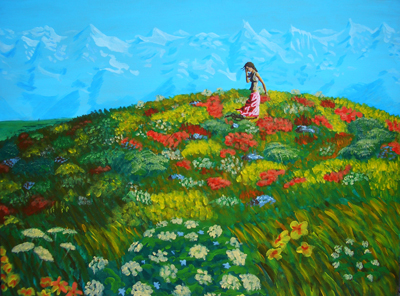 © Allison F., Langhorne, PA