Creature from Space
July 13, 2011
A creature from space
Saw our world from afar.
And picked up his pace,
He was curious after all.

The sphere of majestic blue and green,
Covered by cotton clouds,
Looked achingly beautiful and serene.

It seemed to be the only one of its kind;
All the other planets were uninhabitable
And not at all aesthetically inclined.

"Those living there are blessed;
They live in an oasis," he professed,
"Amidst the silence of this cold place,
Known as outer space."

Wanting a closer look, this surveyor
Peeked and gazed
Through the tattered ozone layer.
But the optimism of the alien explorer
Quickly turned to horror.

What he saw made him cringe and gasp;
He could not conceive such a unique planet
Would be held in the grasp
Of monsters
Who exploited the earth!

There was war, starvation, poverty and stealing,
Pollution, corruption, and all the while he was feeling...
PITY.
He sighed,"Pity for all the beings who dwell here.
They're living with constant suffering, sadness and fear."
"I want to help them!" he cried.

Sadly, he could do nothing to help what he was seeing.
At least for the time being.
For now, he lives here, costumed among us.
Waiting for the right people
To reach out and see their wrong.
To try to salvage what mankind has been destroying all along.
Then he will help us,
This creature from space.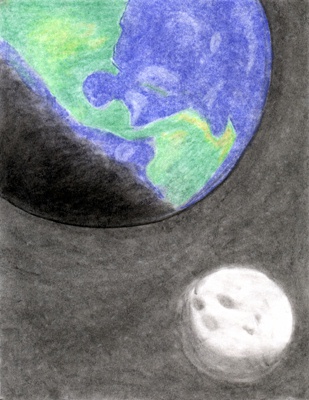 © Bianca C., Phoenix, AZ