Charlie
May 23, 2011
His coat is a maple brown
His eyes are solid green
His muscles are tight and flexed
He surely is a noble steed

He stands in the gate
waiting, waiting, waiting...
waiting to let it all go
when the gun is shot...
he won't be late

Bang! He shoots out like a bolt of lightening
racing through the clouds
he is so fast...
it's frightening

Catching up with two and six,
around the corner he goes
Almost slipping, but still on his feet
In the steady wind, his mane flows

Four is the leader;Charlie's right behind
panting, but still pushing
He and the jockey want that prize,
so he will not decline

Him and number four neck to neck,
tied in the lead as they come into the finish line
A camera light flashes as one of them comes in
"Charlie won!" comes from the speaker's deck

He is led into the circle, the jockey smiling from ear to ear
A shining wreath is laid over his head,
and a medal is given to the rider.
With a smile on his face he whispers to Charlie,
"You did well boy,and down falls a tear.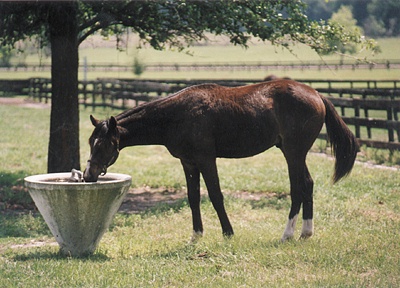 © Ashley K.,New Port Richey, FL