Thorns
July 6, 2011
Every rose has it's thorns
And its probably true.
Its true for me
And maybe for you.

But some are big and bold
Like a desert flower.
Some petite and bright
With colorful power.

Some have secrets inside
That they wont tell
Some are shaped
Just like church bells.

Not every rose has it's thorns I admit
I lied to you, but I'm sick of it.
A thorn can be you, but I refuse to be
Something that conspires to a world that's free

I can be rose and not a rose at all.
Without thorns I might as well be ten feet tall.
But I love my differences anyway
A rose without thorns is how I was made.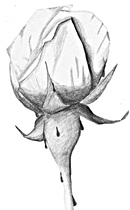 © Elaine S., Phoenix, AZ