Love Found Too Late
June 20, 2011
Eyes as blue as aqua,
Height of 5 foot 10.
Hair as golden as the sun,
When will we speak again?

Slow to anger,
gentle with all.
You always seam to catch me,
when I began to fall.

A great leader you stand,
with a strong heart.
I wish that I had met you sooner,
I wish we'd never had part.

Calm in any situation,
kind to every soul.
Yet how you kill me,
My heart you always stole.

Always so mellow and calm,
How I wish I could be like you.
Your smile so wide and meaningful,
You never spoke much too.

So young yet oh so wise,
I always came to you.
My problems you'd erase,
make everything feel like new.

But no longer are you with me,
I now stand alone.
Hot needles sting my heart,
cold hands break my bone.

Yet how fortunate I was,
to have had someone,
that made saying goodbye so hard.
This goodbye, however, is still not done.

I didn't know I loved you,
until you had gone away.
Until I had to think about you,
Every single day.

Everyday I think of you,
every night I dream of you.
Proves it must be true,
I'm in love with you...

A minute to say hello,
forever to say goodbye.
I couldn't have said it,
looking in your eye.

Only in the agony of parting,
do we see the depth of love.
This I say is true,
as the whiteness of a dove.

However, goodbye's are not forever,
goodbye's are not the end.
They simply mean I'll miss you,
Until we meet again...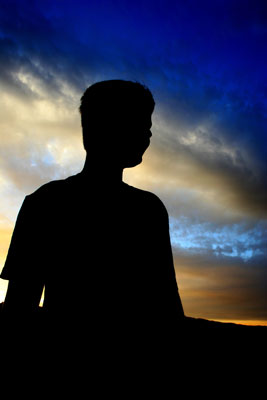 © Monica L., St. George, UT