This Book of Life
June 6, 2011
This life we live is one big book
In which lies many chapters.
It's not always filled with fairy tales,
And happily-ever-afters.

There are no handsome princes
Who became from vile toads.
No easy way out,
No simple solutions,
Nor any secret codes.

No time machine that will send you to the utopia of your choice.
It is only through experience and growth that you begin to find your voice.

These chapters consist of problems you've faced,
Relationships you've had, or dreams you've chased.

It's hard to move on from chapter to chapter;
Remembering but not dwelling on the last.

This life is hard, as is this chapter,
But the past must be left in the past.

And just when you think that the worst is over,
Something else will come your way.
For nothing in life is sugar-coated.
So live just for today.

Don't think about tomorrow,
Don't focus on the past.
Just focus on today;
It well may be your last.

And when one chapter reaches its end,
Don't ever live to regret.
For regret will only bring sorrow and shame,
But remember to never forget.

At the end of this book lies the grandest treasure;
One we strive to see.
It is a gift that lies far beyond measure;
A time when we'll all be free.

Free from our secret pains and sorrows we hold so deep inside.
A time when we'll let our true selves shine,
And no longer have to hide.

But until then we must be strong,
And grow from every chapter.
And once we've become all we can be,
We will then live happily every after.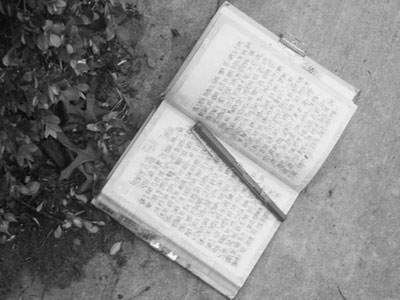 © Quinn B., Lubbock, TX