That Malevolent, Little Voice
June 5, 2011
She had a raucous scream, only she could hear in her head.
The one that didn't even stop, after she climbed into her bed.
She didn't have any power over that malevolent, little voice.
No matter what she said or did, it always made a bit of noise.

It began to tell her things, she never wanted to hear.
That she wasn't good enough; what she constantly feared.
She started to over think, and decided what she must do,
To become what society accepted. That was her first issue.

"Five-hundred calories a day," she said, "that is all I'll eat."
So, she began to starve herself, so her life would be complete.
Sure, she got a slight nauseous, but it was worth it in the end.
Even though she might have gotten sick and lost her very best friend.

"Too much thinking leads to negative thoughts," this is what she knew.
But, she couldn't control her mind. It was too grueling to do.
"You've always been deep and curious," that's what her parents say.
I guess it was her curiosity that may have gotten in the way.

Drinking really alleviated her, because she began to forget,
Everything that went on and every obstacle she met.
But, she soon found out it only made one problem more,
In her life of billions of problems. What was she here for?

She didn't do what other adolescents did; sit around and mope.
Instead, she found another strategy on exactly how to cope.
I guess it was uncanny, but she certainly liked the pain.
Just how some people have an interest in love or enjoy the rain.

She even had a diary, like every little girl may keep.
But in it was a ghastly story, that would make any loved one weep.
So, maybe she should have kept it hidden in a better guarded place,
Then she wouldn't have seen her daddy's awfully vexed face.

"I don't even know you," her mother would start to cry.
"I don't even know myself," she thought, as a tear trickled from her eye.
"So who does know the real you?" Her physiatrist had to ask.
"You do?" she said, unsure. She spoke way too fast.

No one was that fortunate to hear every single one of her thoughts.
Though, she did have to confess some things when she did get caught.
Unable to answer any of the testing questions she was thrown;
The only real reply she had was, "I feel so alone."

Well, her she is now, typing a poem she wrote by herself.
Wondering still in her head, "Is this even good enough?"
I never really learned how to deal with that malevolent, little voice.
It has always been and always will be making a bit of noise.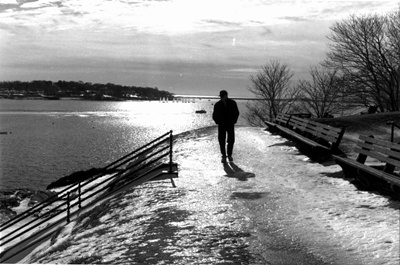 © Steve S., Marblehead, MA