Petrified Secrets
May 24, 2011
Cracked rock encrusts this old, wooden door.
Seems as if it could be 500 years old, maybe even more.
There are secrets to find, hidden in the wrinkles of the old oak.
Tall tales about magical things happening inside, a pond sets aside the cave, you can hear the stories from an old frog in each croak.
Each different brown shades of the oak door lets you know about each adventure.
Steeling from the rich, the glass slipper, and every flying creature.
How smooth the door is lets me know how many times it's been swayed back and forth on its hinges.
Opening the door a musty smell seeps out and my nose instantly cringes.
With every second that the door continues to creek my curiosity grows stronger.
Carefully opening the door wider to step in, my ambition tells me I can't wait any longer.
My heart starts to pound, sweat drips from my forehead, and I can see everything in the room.
There, sitting at a petrified, wooden table, sits the skeleton of a bride and her groom.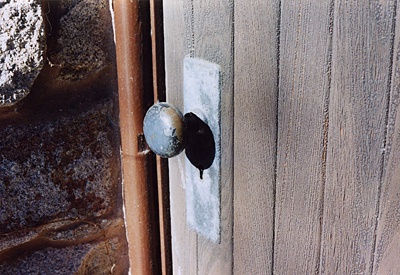 © Chris F., Pequannock, NJ