No fond memories left
May 20, 2011
As a foolish man sitting idly by
I watch the loved ones begin to die.
And as the hour's hand strikes twelve
I find myself drifting and soul start to delve.
Sinking, falling, fading fast
how much longer can I last.
My turn, finally, it is my turn
Feeling as if I am the leaves of a fern.
Withering, rotting, starting to decay
Cold hands grab me dragging me away.
With nothing to hold onto 'cept memories and silence
Silence, silence, and a memory,
But mostly silence that devours me.
Slipped and fell into the black
the black, that black, cold black, unforgiving black.
With a plop I fall into liquid anguish, fighting hard not to drown in that vile pit of despair.
But for me to try, I would have to care.
Swallowed whole I reach the bottom to stare at my reflection
Which draws my eyes to meet the gaze of an infection.
A fierce creature stands tall, proud and pale
Call the demon what you will Apollyon, Mephisto, or Ba'al.
Trying to control me it morphs into my worst fear
A beautiful woman, who through no fault of her own, was taken by a horrid drinking fiend, his car and beer.
I turn to flee a creature I hope to outpace
Who wears the image of her lovely face.
But I trip and fall up, up, up high
At which time I wave to the devil goodbye, goodbye, GOODBYE!!!
I return to my host of withered flesh and bone
And thank my lucky stars, for the light that was shown.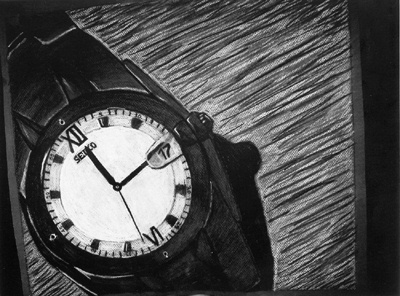 © Rachel U., Danbury, CT