Watchin' Her
May 17, 2011
Old and withered


He's had his years
He traded in his horse.

Now he sits on his old rockin' chair
Swayin' back and forth.
He listens to the chair squeakin' in the night
The peaceful sounds of God.

O'er the horizon he watches the heat fall
The cool is now risin'.
With a soft blanket around his shoulders,
He sits hand in hand.

He watches his wife,
Beautiful and blessed.
Her eyes as blue as the sky-
The window into her soul.




Her white and grey hair dancin' in the wind.
Playful but old, and young at the heart.
He feels the emotion sirrin' within,
Her grace touches his heart.

The white moon rises-
The coyote howls,
Listening off in the distance-
The animal's prowl.

Reading God's word
Taking it in
Blessed by the nature
That God brings within.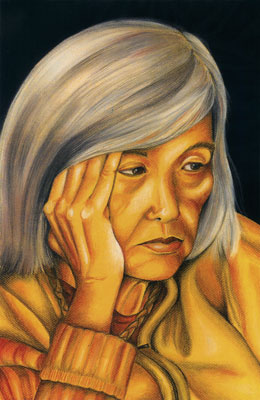 © Kaitlin C., Forest Hills, NY