Room 174
May 12, 2011
she's staring at the mirror contemplating

why, why they told me they loved me

with a tear in their eye, said they'd never leave me,
then left me far behind.



86 lies unfold 88 secrets untold

one more secret, one more lie.

whats 2 more while i start to cry,
whats one more while i slowly die.



find the instrument of choice
place it upon my scarred skin,
and let the cold, cool rush finally settle in.



another f***, another fight,

1 more pill and everything's gonna be alright.

one more f*** unfolds another lie,
but keeps a dark secret ill always have on my mind



cant rewind, cant forget

just one more pill,
and one last slit



1 hand with a fist full of solution

1 hand with a bottle of rum,
one more cut before shes done.



shes holding the blade, watching the blood,

swallowed the pills, now shes almost done.
86 lies come known, 88 secrets finally told.



as she lye's there no pals to be her-ed,

only secrets told as people confess lies,
her story finally unfolds.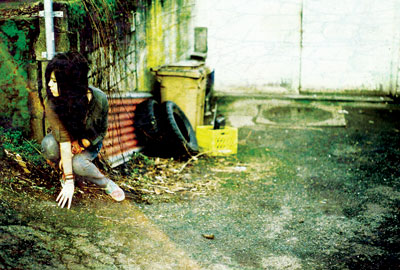 © Hailey J., Lake Oswego, OR