Romans 10:13
May 12, 2011
Hello!
Can anyone hear me?
Please, I'm desperate
Hello!
Is there anybody?
That can see
Hear
Understand
Know the reason
For this
This fear.
I'm so alone
I feel such pain
Resonating through my soul.
It has formed a home
It's existence off my own.
It has found strength
In the presence of my anxiety
Found peace
In the midst of my singular society
Please, if you can hear
Reply, stand up
Make a noise
Something to let me m know you are near.
I have tried
All my life
To make sense of the mess
To bring truth to light.
I have wandered in and out
Of temporary complacency
Anger, depression, doubt.
I have searched the highs and lows
Of everything I know.
Pursued the fame
Fought to make a name.
Still I've yet to see the truth
Or understood the answer to the shame.
My body shakes
My heart aches
My mind faints
My soul waits
My foot snakes
My hand quakes
My concentration makes
Every effort to stay awake.
Is there a purpose
To this tormented soul?
An escape
From this dark and desolate hole?
Is there a way
To find relief
To be released
From this miserable day.
Will I ever find hope?
To stand up and embrace
The heart now split
Lungs trying to pray
Throat about to choke

Hello, I am here
I have never left your side
I have never ignored your fear.
My heart, it calls
Out to your soul
My hands, they reach
And patiently wait for you to take hold.
I am with you
Here, now,
To wipe the sweat from your brow
So stand up
Speak out
Let your heart open the door
Wake up
Give a shout
For I have come to give you more.
Peace shall be your portion
Love you shall find
Here in my arms you will be comforted
In my hands, I claim you as mine.
The pain you have suffered
The hurt your body feels
Are simply products of a wayward world.
That refuses to allow me to heal
But now, in this moment
Your very confession
Has made you whole
You are in my arms for evermore
Find rest, me dear tormented soul
Salvation is your portion
Love is your prize
Lay down your burdens
Close your eyes.
For eternity I am your king
And no longer shall sin
Have room to inflict its sting
For no matter how low
You imagine to fall
Never shall you jump from my palm
Or leap from my call.
Your life now has a purpose
Your heart: peace
In my hands you are strong
In my name you are free.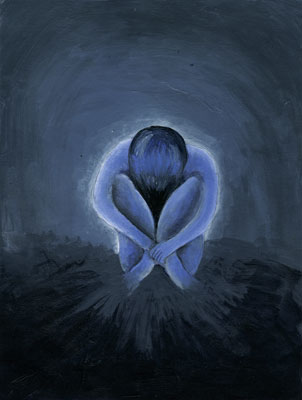 © Becky F., Sacramento, CA