If eyes don't tell lies
May 12, 2011
These eyes you gaze into are not as green as they seem. I see nothing but the dark end and the water rolling off the stream.
I got no outlook, no emotion, no dream.
My motivation sinks deep, as the stream turns into a sea.
They say eyes don't tell no lies, but look at me...and what do you see?
Do you see pain..
Do you see death..
Do you see me?
Because me, I've left.
You see these cuts here on my arms...
Surface of my skin but go deeper in depth.
You seen the ones on my hips?
Those go the deepest, but to your perception might seem meaningless..
like it's just from the grip of my jeans..
but i don't let that hold rest, ripping the seams.
The feeling behind the slitting of my wrists and the grabbing of my jeans is so unseen.
The day i stop will be the day my own voice intervenes.
And 'til that day i will remain creaking slow..
breaking the board I'm standing on, not hoping..but wandering the silence I'd feel if i fell.
Taking that risk is all too easy..not caring "what if" as long as i fall freely.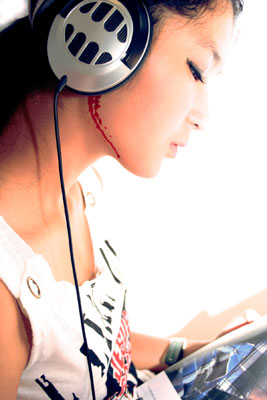 © Jiani L., Toronto, ON, Canada