My Global Family
April 25, 2011
My mom is Detroit, Michigan. She's had bad times in the past but is trying hard to turn things around.

My sister is Sydney, Austraila. Fiercely sovereign. Unafraid to stand alone but sticks around to delight in our family.

My oldest brother is Tuscany, Italy. Reserved and perfectly serene. Gallant and chivrilrous like in old times.

My older brother is Las Vegas, Nevada. Sometimes inappropriate and absurd, but clever and entertaining as well.

My younger sister is the Bronx, New York. The underestimated one of us all, but someday she will blow our minds with her hidden talents.

My little brother is Snowball, Arkansas. Small and cute with big city energy about him.

My niece is Atlantis, ?. We know its out there, just waiting to be discovered.

I am Hollywood, California. The want to be famous dreamer always hoping for something more.

My family is various cities across the planet but together they make up my world.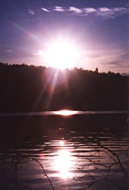 © Laurie T., Hopkinton, MA