Moments in Flight
May 9, 2011
It feels like you wait forever,
dragging baggage to and fro,
filling your time with nothing important
and waiting for the chance to go.

You snap back to life like never before
the moment your name is called,
donning a smile and taking a step
you advance yourself down the hall.

You turn the corner to greet the smile
and face of someone new,
nervously strapped-in next to them
a flutter shoots through you.

Overhead the din of voices
overwhelm you with advice
on how best to handle the situation
and yet you don't think twice.

You dive right in, head first
hardly prepared for such a flight,
you're speeding down the runway
with an open sky in sight.

It's spinning, dizzying, scary
and exciting all the same,
escalating higher and higher
losing the ground from which you came.

Soon enough things settle in
with this person next to you,
the excitement dies and you feel safe
as you two reach altitude.

You sip some coffee, maybe catch a film,
as your feelings start to calm,
your hand may wander to his,
gracing your fingers on his palm.

You're comfy and cozy now,
your lids batting a slower blink,
your head, like lead, grows heavier,
into sleep on his shoulder you sink.

But awakened with a shudder,
tensions rise with sudden distress,
turbulence throws you and him
into disruption and bitterness.

From such a high place in the sky
it felt as if you'd never leave the clouds,
but now in the face of such pain and spite
you realize it's time to come down.

The slow descent takes much too long,
you're ready for it all to be done,
to get out, to get up, to stretch your legs
to go anywhere, to run.

Briefly you glance at this person
with whom you've shared all this time,
politely you nod, and depart your ways
finally freed by the seatbelt sign.

You take a step and fill your lungs feeling
rather unrewarded,
yet you realize you're in a whole new place
than you were when you boarded.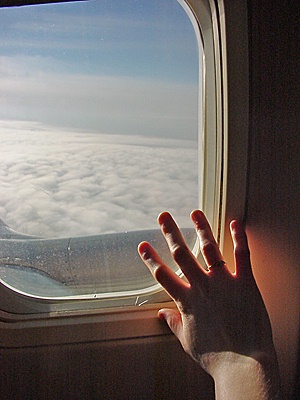 © Greg K., New Lenox, IL