The Secret Life of Your Garden Gnome
May 1, 2011
I hear the tulips secrets that carry in the wind.
I hear the trees swaying, doubling over in a bend.

I feel the snow and rain cascading down my chin
Dripping from my beard and never seen again.

A million butterflies have tickled my nose.
The asphalt often burns my toes.

I cannot talk, I'm made of plastic.
My mouth is sadly not elastic.

I look like a nerd in my pointy hat.
My gnarled face often scares the cat.

My pinky's gone, my big toe too.
The ten-year-old dyed my white hair blue.

My cheeks have gone to a faded pink.
I've been buried twice, so now I stink.

A fly once slept inside my nose.
I've watched every one of your flowers grow.

I've seen people come and people go,
some are fast and some are slow.

People laugh and people cry
people hug, and shout, and lie.

And I laugh in silence, 'cause although they're tall,
I know that I'll outlive them all!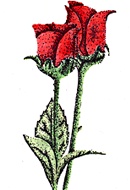 © Sarah M., Phoenix, AZ