The Truth We Need to Truly Survive
April 28, 2011
"I love you." he says.
"Forever." he whispers.
The tiny words muttered in the time of weakness.
I know it's not real.
That it was never meant to be.
But that doesn't mean that I can't dream.
But dreaming is a fad.
Like wisps of wind.
So close you can taste them,
But never within your reach.
Broken promises are what hurt the most.
I hide my heart behind a false smile.
But inside, I'm being torn apart.
It hurts,
But at least I know I'm still alive.
I lay awake at night,
Knowing the pain I caused.
I write and write and write.
No one's ever going to hear me.
Yeah, life will go on.
And I'll keep hiding my real feelings.
That's the thing about smiles.
You can never tell what's really behind them.
And the person using them doesn't let anyone get close enough to know them.
I understand I'm only a child.
Yeah, I get that no one will take me seriously.
"It's just a phase."
So why do they whisper behind closed doors?
Because they know it's not.
All the things people long to say.
Written out in black and white?
Where's the color?
The truth behind the fad.
Why do you have to tie someone to a chair,
Beat the truth out of them,
Only to find out what you knew all along?
What kind of sense does this make?
Faces painted in masks.
Words dripping with poison.
They really know how to hurt a girl.
Don't they?
Yeah, I understand perfectly.
Mothers profess an untrue love.
Their child has to be perfect.
No they don't.
Let them be themselves.
The lies fathers use to protect their daughters.
Just tell the truth.
You can't hide forever behind white.
Sooner or later...
They always just... know.
Schooling is expected to be easy for those who can learn.
Well, what about those who can't?
You place us in facilities.
White rooms,
White clothes,
White walls,
Trying to figure out why we're depressed.
It's because we just want to be like everybody else.
Why is it so hard to understand that?
Dumbo.
They called me.
Potato Sack Girl.
I'm known.
I'm weird.
I'm different.
I used to be a cutter.
It was only to feel something.
To remember that I'm still alive.
I have scars.
I put them there.
I'm not ashamed of words on my arm.
Everyone else is.
I know the truth.
The truth everyone else tries to repress.
But why?
So that I can be veiwed as normal?
There's more to life.
Trust me.
People shouldn't care what everyone else thinks.
It shouldn't matter.
I mean we're all only human really.
Why can't we just live up to that term?
Humanity.
It's the perfect word.
I'll remain unheard, invisible.
But mark my words.
Someday...
Someday soon,
Others will come to realize the truth.
The lies behind society.
Only when we accept who we are,
Can we truly make the best of it.
When you learn to die,
You know how to live.
It can't be better put any other way...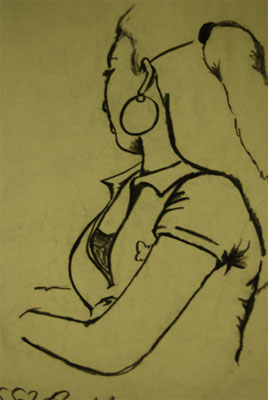 © Janessa B., Kannapolis, NC