memories
April 18, 2011
It was a mildly cold morning,
In fact it was Christmas morning.
My mommy gave me my last gift to open.
After i opened the last gift i had a smile on my face, and a smile in my heart.
The gift was a brand new pair of roller skates
for beginners like me.
We went outside and across the street
To the lonesome church.
She put the skates on me and adjusted them to my size feet.
She grabbed my hand and wrist and asked "Are you ready Chelsea girl?!" with joy and excitement in her voice.
She started walking, i started rolling. "Put one foot in front of the other, It's just like walking", she would say.
And i would listen.
Then she'd let go, i was on my own now: i could feel the wind in my face, and smell the fast food from down the street.
Then i fell, i didnt see the rock lying in the parking lot.
When i got up, i could feel the pain in my hands and knees.
the taste of my mouth watering due to the pain and the excitement.
i love the feel of roller skating, so everytime i would pick myself up and try again.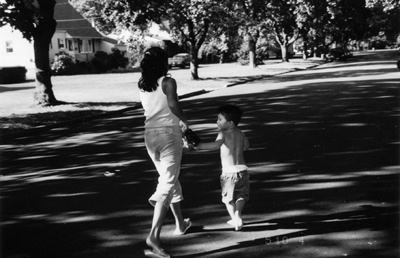 © Angelica M. Pequannock, NJ