Norman Morrison
April 20, 2011
On November 2nd, 1965
In a nation of liberty and justice:
The United States of beautiful America
Norman Morrison set himself on fire
outside the Pentagon.
He was thirty-one, left his Quaker faith,
he abandoned his wife, who fell there weeping,
he forgot his three children
and the people left watching him burn.
to live the rest of their lives with no father to return.
He did this in Washington and permanently tainted
the lives of those trying to stop him
because he wanted the others he left behind
to feel the pain of the soldiers.
The names, ages, beliefs, and loves of all American soldiers
are not recorded.
This is what Norman Morrison did.
He soaked himself in petrol.
He chose to burn. He chose to suffer.
He chose to die.
This is what he did.
Leaving his 18 month old Emily behind,
Burning so everyone could see and feel
Giving up a life that every soldier fights for
just so they can hold their baby once again.
He fought for no one and died a no one.
All for a new face of fame, just a flame.
and he became
Un-American.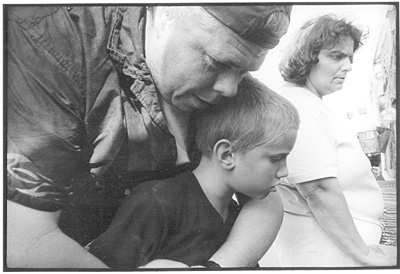 © Mary A., Fullerton, CA