Sweet Temptation
March 23, 2011
A thousand promises
Spoken in perfect clarity,
Designed for far off dreams
To fantasize of a tomorrow.

Each word is smooth and glamorous,
Drenched in sticky honey.
A golden syrup
Comprised of hope.

Powdered sugar rims
A shining silver goblet.
And innocent lips meet
Seductive sweet temptation.

Poison mercilessly burns
Those unsuspecting lips.
Deception in disguise,
In the form of candied liquid.

Ocean eyes threaten tears
As fatal drops consume.
Death slips through shaking fingers
And courses through boiling veins.

The last grain of sand
Has fallen from the hourglass,
Spinning out of time,
Carrying away its victim.

And in this final hour
One last thought escapes,
With a crystal drop
Gliding down a fading rose:

I trusted you.
And now I have the price to pay.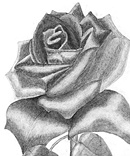 © Nghi L., Phoenix, AZ